Electrogrip 80mm 3 Meter Copper Bonded Earthing Electrode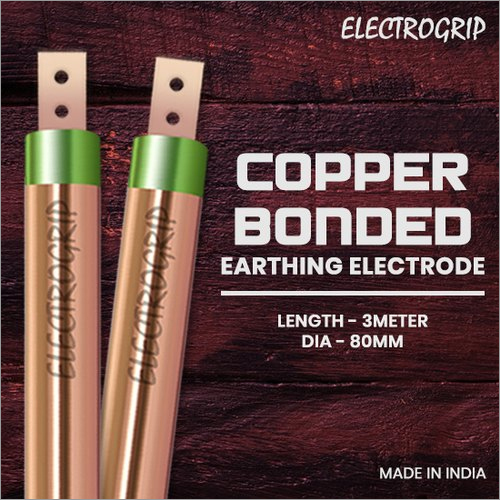 Electrogrip 80mm 3 Meter Copper Bonded Earthing Electrode
Price And Quantity
Product Specifications
We all know that copper is a very good conductor. Due to its excellent conductive property, it allows more current to flow easily. As there is no corrosion issue, copper lasts longer. Copper earthing electrodes demand very less maintenance. The durability is also impressive.
Product Description
Electrogrip 80mm 3 meter copper bonded earthing electrode is installed in high-rise buildings, housing societies and industries to safely conduct fault current to the ground. The installation of this electrode is essential for the protection of people and electronics from current shock because of lightning, while meeting grounding safety criteria of electrical substation. This results in smooth functioning of electronics and high end machines and equipment. Electrogrip 80mm 3 meter copper bonded earthing electrode is used in earthing/grounding process in which a connection is build between tower and earth via earthing electrode. This electrode can be embedded at a depth in any kind of soil. It creates an alternative path from which the fault current can flow.
Benefits of installing earthing electrode:
Within a budget, customers can protect their large scale business by safeguarding machines from damage.
The electrode is made to withstand high voltage.
Lightening does not cause any damage to electrical systems due to earthing electrode.
Not only machines, it saves human life from electrical shocks.
As Copper is a very good conductor, it allows more current to flow easily.
Corrosion Resistance hence, copper lasts longer.
Copper earthing electrode needs Very less maintenance.
Durable
Specification
| | |
| --- | --- |
| Length Of Rod | 3 meter |
| Diameter | 80 mm |
| Material | Copper |
| Usage/Application | Maintenance Free Chemical Earthing |
| Technique | Strip In Pipe |
| Shape | Pipe |
| Color | Copper |
| Packaging | Plastic Wrap |
| Service Life | Up to 12 years |
| Packaging Type | Plastic Wrap |
| Quantity Per Pack | 1 |
| Brand | Electrogrip |
| Country of Origin | Made in India |