Electrogrip 60mm 2 Meter Pure Copper Earthing Electrode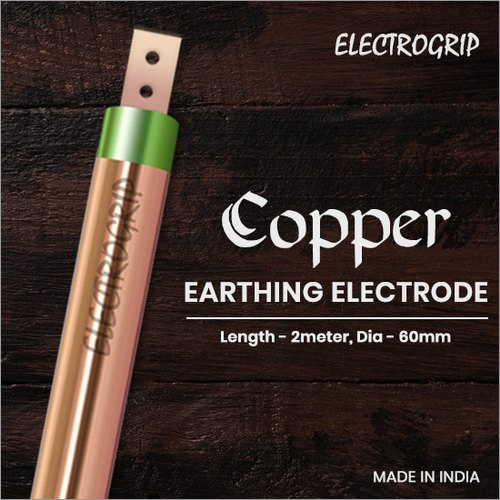 Electrogrip 60mm 2 Meter Pure Copper Earthing Electrode
Price And Quantity
Product Specifications
We all know that copper is a very good conductor. Due to its excellent conductive property, it allows more current to flow easily. As there is no corrosion issue, copper lasts longer. Copper earthing electrodes demand very less maintenance. The durability is also impressive.
Product Description
An earthing electrode is installed in soil without rocks and boulders. Generally, the electrode is surrounded with low resistance earthing material. The earthing electrode is chosen for earthing protection based on the corrosive condition and earth's electrical conductivity. Electrogrip 60mm 2 meter pure copper earthing electrode is used in copper earthing. High conductivity makes it a good electrode. This electrode is suitable for all soil conditions in industrial and commercial areas. Electrogrip 60mm 2 meter pure copper earthing electrode is known for its superior corrosion resistance, great electrical capability, effective dissipation of fault current, and easy installation.
Advantages:
The advantages of a copper earthing electrode are numerous.
We are all aware of how excellent a conductor copper is.
It allows more electricity to flow readily because of its superior conductivity.
Copper lasts longer because corrosion is not a problem.
Copper earthing electrodes require very little upkeep.
The longevity is also impressive.
Specification
| | |
| --- | --- |
| Diameter | 60 mm |
| Length Of Rod | 2 meter |
| Material | Copper |
| Usage/Application | Maintenance Free Chemical Earthing |
| Terminal Hole | 8mm |
| Service Life | Upto 12 Years |
| Terminal Size | 50mm x 6mm |
| Packaging Type | Plastic Wrap |
| Number Of Holes | 2 |
| Brand | Electrogrip |
| Country of Origin | Made in India |