Chemical Earthing Electrode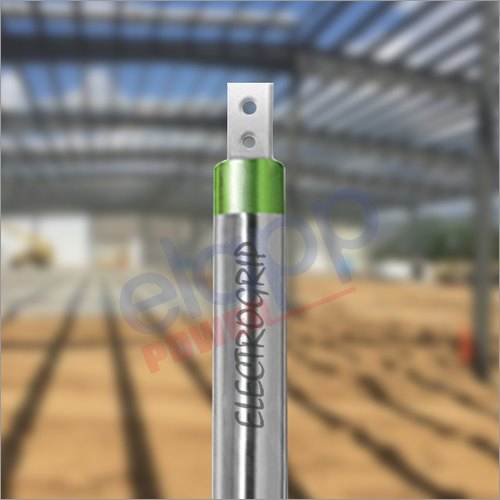 Chemical Earthing Electrode
Product Description
Chemical earthing is one of the earthing processes that professionals follow in places especially that have moisture in the soil, like hilly areas. Chemical earthing can be done horizontally as well as vertically. The components required include conductor, earth wire, back fill compound/chemical, and chemical earthing electrode. This maintenance free earthing system requires less space for installation and operation. GI rod is mainly used in chemical earthing. This electrode has terminal at the top and chemicals are completely filled in it. Chemical earthing dissipates lightning strikes and thus protects machines and equipment.
Using a GI or Galvanized Earthing Electrode has many benefits, including
Compared to a copper electrode, the cost is lower.
In comparison to a typical iron rod, the corrosion process is slower.
It continues for over 6-7 years.
Specifications:
| | |
| --- | --- |
| Country of Origin | Made in India |
| Diameter | 40 mm |
| Material | Galvanized Iron (GI) |
| Thickness | 100 microns |
| Certification | CPRI Certified |
| Service Life | 7-10 Years |
| Terminal Hole | 8mm |
| Auger Hole | 8 - 10 inches |
| Length Of Rod | 3 meters |
| Usage/Application | Maintenance Free Chemical Earthing |
FAQs
Which type of earth electrode is better?
Safety is the first and foremost reason for earthing in an electrical network. Once grounding of metallic portions of electrical equipment is done, then there are no dangerous voltages in the equipment case. In an event of contact between the live wire and the grounded case, the circuit is shorted, and the fuse will blow. This causes absence of harmful voltages. Not just earthing saves equipment and huma lives, but also provide protection against over-voltage and stabilizes voltage. Elapp Power Private Limited supplies Copper and GI earth electrode. Copper earth electrode is better because of its higher conductivity. Copper electrode when used in earthing maintains resistivity in soil or rock environments. In terms of life, copper is better than GI.
What is the purpose of having earth electrode?
A conductor mainly used for earthing is an earth electrode. A metal plate or any type of conductor in electric wiring is immersed in the ground to create a conductive path to the ground. Earth electrode is an electrical safety system used in residential areas in order to prevent electrical incidents and ensure safety of assets and human lives. Copper or any other material is used for making earth electrode. In an event of electricity overflow, this electrode safely discharges that electric current.
How does an earth electrode work?
The electric current that can harm devices and equipment can be easily diverted when an earthing system is in place. The earth electrode does this job by safely diverting the current from a damaged cable or wiring to the earth. The earth electrode connected to an electrical circuit is fitted into the ground near the home's switchboard. It enables excessive electricity from the circuits in the home to travel safely along the earth wire to the electrode and finally reach to the ground without causing anyone danger. The safety switch prevents electric shock to people.
What Cannot be used as an earth electrode?
There are several systems and materials that must not be used as an earth electrode, for example aluminium, structural reinforcing steel and metal underground gas piping systems.
Where should earth electrode be placed?
The earth electrode is place under the earth in installations, like remote buildings, camping parks, exhibitions, construction sites, EV charging points, etc.